Tuesday, December 11th, 2012
Working with Brent Kellington Redman Tech is proud to launch our first Fluid website. The Kellington Real Estate Group are Fort Saskatchewan's leading real estate experts. Brent has extensive experience working with reputable Canadian companies and delivers top quality service to his Fort Saskatchewan clients.
From top to bottom, the website logo, colours, texture and structure compliment each other and flow together in perfect symmetry.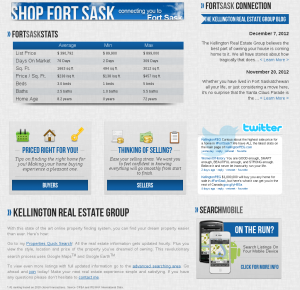 Brent and his team are professional, tech-savvy and modern agents who keep up with current real estate trends. Respectively, their website perfectly mirrors their image. Widgets grace the home page, with features such as: double listings, video, a Twitter feed and a regularly updated group blog. Upon request, we also incorporated an Redman add-on (Market Statistics) to his homepage.
We wanted potential home buyers to see the beautiful landscape, welcome sign and to make a connection with the city; so potential home buyers could visualize themselves living there. Brent Kellington and his team purchased a Redman Strategy Bundle in which time was allocated towards layout, custom content and work. All of the sliders were custom made with the Kellington Real Estate Group brand.
Our copywriting team created Fort Saskatchewan's first real estate local info page with information on the city's parks, trails, arts, culture, fun and recreation. We also created a "Why Choose The Kellington Real Estate Group" custom page, highlighting the benefits to listing with Brent and his team of experts.
Best of all, we injected the Custom Fluid element to The Kellington Real Estate Group's website! Resulting in a flexible, compatible and user-friendly real estate website. If you want information on receiving your own Fluid website, contact a Redman Sales representative today.